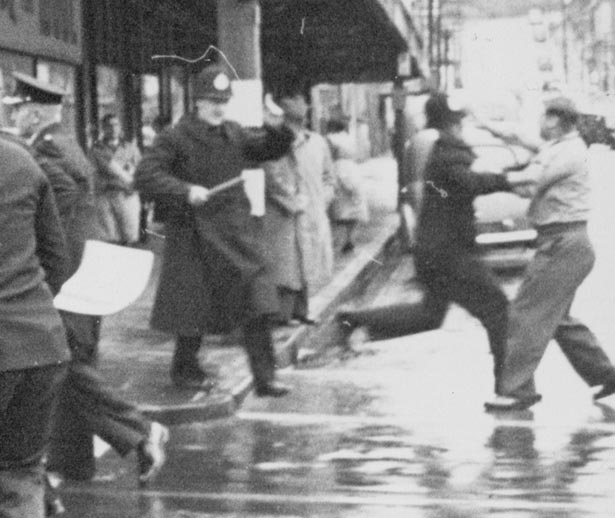 Auckland's 1951 waterfront dispute
First published in the New Zealand Herald, March 2008.
In New Zealand's short history there has been three key periods of industrial trouble, each separated by regional disputes. Some ended in death, all ended in tears. But each one has taken the country closer to offering workers more rights and better working conditions.
To look at the first strike we have to go back more than one hundred years. The maritime strike of 1890 took place in the same year that Labour Day was first celebrated. October 28 was used to commemorate carpenter Samuel Parnell's battle to win a standard eight-hour working day – something he had achieved 50 years earlier.
Parnell built houses with a team of carpenters and set contracts with customers that stipulated eight hour's work, eight hour's rest, and eight hour's play. These contracts are pointed to by Auckland amateur historian Gerard Hill as being the start of the Labour movement.
The first anniversary of the Maritime Council, an organisation that brought transport and mining unions together, was on 28 October 1890. But before its first birthday the maritime strike had started, a reaction to workers' pay being cut.
The strike had began in Melbourne by ship officers on 15 August 1890 and crossed the Tasman on 15 September. The strike lasted 56 days, involved 8,000 unionists, and ended with the qualified defeat of the unions.
Hill has studied social history in New Zealand and is well-known for giving historical walks in Auckland. His father, Toby Hill, was the national secretary of the Waterside Workers' Union and a key player in the 1951 dispute.
"The defeat in 1890 was qualified in the sense that the unions realised they had to get politicized," says Hill. "The legacy of it is that John Millar, who was the founder of the Seamen's Union was elected to Parliament in 1891."
Hill says although the 1890 strike ended badly for union members, the unions remained intact. Although weakened, it led to the Liberal/Labour coalition to come to power led by Dick Seddon.
"Once in Parliament it was instrumental in introducing the country's earliest labour laws in the form of the Industrial Conciliation and Arbitration Act (ICA). It was introduced in 1890 and lasted pretty much intact until 1973," says Hill.
"The act brought in compulsory arbitration between most employers and staff, and it was hoped it would prevent further industrial action. It delivered minimum wages and the workers' arbitration court.
"But unions had the option to opt out of the Act and register under the Trade Union Act. And that is what a few of them did. Including the West Coast miners."
But subsequent amendments were made to address changes in the economy after Britain entered the European Common Market 1 January 1973. It provided substantial protection until it was replaced by the Employment Contract's Act in 1991.
While the next major dispute wasn't to happen for another 23 years, two events happened in between that helped further shape the union movement in New Zealand.
The Blackball Gold Mine "crib-time" strike was a major victory for the unions in 1908 and encouraged people to join up. It led to the first Trade Union Federation and ultimately to the formation of the Labour Party.
Blackball is a mining town near Greymouth and will be holding centenary celebrations in March [2009] with a three-day event that will include a street parade.
In 1912, during a six-month strike by miners at Waihi, the police attacked Fred Evans moments after a constable was shot in the stomach. The event on 12 November is known today as 'Black Tuesday'.
Evans never regained consciousness from a severe beating. After 90 minutes languishing in a police cell he was taken to hospital where he died the following day. He became a martyr of the United Federation of Labour (UFL) that was formed a year later and made up of members of the hard-line Red Feds and moderate unions.
The country's second major industrial dispute flared up on the Wellington waterfront as a result of the Union Steamship company cutting travel time for its shipwrights on 17October 1913. The shipwrights were members of the Waterside Workers' Union and so enjoyed strong and far-reaching support.
Hill says the Liberal governments had been replaced by an "anti-workers government", led by Ulsterman, William Massey.
"The last two months of the strikes led to bloody industrial confrontation – in reality a class war – primarily in Wellington, but also in Auckland," says Hill.
An Evening Post editorial of 23 October 1913 called union members "wayward watersiders" for holding up the work of the port in a "Lordly manner".
"The demonstrators could have met in their own time," it says.
Closing the port for a few hours meant farmers' exports were delayed. But the delay was nothing compared to what was to come as the strike escalated in reaction to the shipwrights being locked out.
The dispute gravitated to a general strike lasting one week that brought Auckland to a standstill. While hotel guests had to cook their own food and make their own drinks, the strike is mostly remembered for the use of special constables – nicknamed 'Massey's Cossacks' – disgruntled farmers who rode their horses into crowds of strikers.
"Things were heated up when police superintendent Mitchell, who kept things pretty calm, was replaced by John Cullen who was tough and uncompromising, he was ruthless," says Hill.
"Like Massey, an Orangeman and Freemason, this is a legacy we are still having to deal with today. He was the one who ordered protestors to be attacked on horse-back."
On 11 November 1913 about 1,000 strikers marched along Ponsonby Road and down College Hill to a rally in Victoria Park. Led by Australians Michael Joseph Savage, Harry Holland, Pat Hickey, Paddy Webb and Bob Semple, they called for more support and attempted to raise morale as they fought a losing battle.
In 1913 there were 16,000 unionists, most of which were new members of the Federation of Labour. Some supported the Wobblies  –  a radical organisation that pushed for the formation of a single union and one strike.
"The strike was the biggest stoush in New Zealand's history with the exception of the land wars of the 19th century," says Hill. "In one incident two scabs were chased by Watersiders into a Wellington Whitcombe & Tombes store on Lampton Quay, which is a Whitcouls store today. The shopkeeper produced a shotgun to protect his stock.
"Things heated up when the authorities put machine guns either side of Buckle Street, but they were never fired – there was a high state of lawlessness there.
"Pat Lawlor, a famous Aussie journalist, writing in the Sydney Bulletin at the time, said the smell of cordite could be smelled over Te Aro Flat (the centre of Wellington) for three weeks."
Hill says in the end the strikers were defeated and that had a huge impact on Savage and the other strike leaders.
"They had come to New Zealand intent on revolution and this defeat ended with them sitting in Terrace Jail in Wellington, a site that is a school today."
Waiting in their cells the strikers decided the Parliamentary system was probably their best bet for reform and so the seeds of the Labour party took root behind bars. The Party was officially created in 1916 and made up of anti-war groups and unions. Savage was the Party's vice-president by 1918, and became its national secretary the following year.
"It was in 1919 that Savage was elected to the Auckland City council, along with 17 opposition councillors and one independent, Savage's boss Earnest Davis," says Hill.
Savage's hard work paid off when he was elected as MP for Auckland West (Ponsonby) in the 1919 general election, a seat that he retained until he died in 1940.
"During his time in Parliament he became Labour's greatest tactician," says Hill.
There was a flare up in Auckland's Queen Street in 1932 that ended, like the 1913 troubles, with police on horseback "controlling" protestors.
"People had been trampled in 1913, and then again in 1932," says Hill. "After Labour was elected there was a review of the police and the mounted unit was abolished," says Hill.
The biggest strike to have hit the country was in 1951. The arbitration court  had awarded a 15% pay increase to all those covered by the arbitration system. Waterside workers were not among those as they were governed by the Waterfront Industry Commission. Wharfies were offered 9%, with bosses saying previous pay raises should be taken into account.
From 13 February 1951 the Wharfies refused to work overtime, the company reacted by threatening to lock them out. So were they not working because they were on strike, or were they locked out by the management? It depends who you talk to.
"The cause of the dispute was a booming economy, higher cost of living, and stagnant wages," says Hill.
"In addition, soldiers returning from WWII saw that plenty of people had made money while they were away. But Freeman's Bay was still a slum area, despite 15 years of a Labour government that had made significant improvements in people's living conditions.
"It is the working class that fight wars and they had seen their friends killed – they came home to a land where they saw a lot of people doing very well and felt short-changed. National was in power,  inflation galloped, and the Cold War had come over the top of us."
The 1951 dispute became violent at times when protestors had run-ins with police brandishing batons. Violence came to a head in Auckland on June 1 – Bloody Friday – when 1000 people marched up Queen Street.
With tempers getting shorter, Toby Hill, Gerard Hill's father, was among those who helped disperse supporters to avoid further violence.
At the end of the day, strikebreaking scabs replaced union staff. On 15 June the dispute was over and striker Jock Barnes – president of the Waterside Workers' Union – was sentenced to two months' prison for defaming a policeman. Barnes died in 2000 aged 92.
The 1951 Waterfront Dispute lasted for 151 days and involved more than 22,000 wharfies, freezing workers, drivers, labourers, and miners.
The Kinleith strike of 1980 is seen as a significant victory. Around 3,000 workers were on strike or suspended. Unions though launched a campaign through the Federation of Labour which had taken over the dispute and national support followed.
"The employers reached agreement with the union after seven weeks but Prime Minister Muldoon intervened," says Hill.
"This led to another four weeks' stoppage which resulted, in the words of FOL president Jim Knox (a 1951 wharfie) "as the greatest victory he had ever seen".
"Unions can claim success with equal pay, additional holidays, paid parental care, and for campaigns over wages," says Hill.
• Thanks to Gerard Hill for his valuable information.