Make your first podcast with ease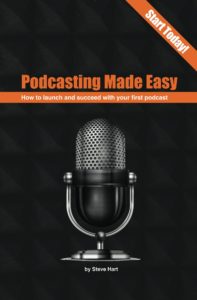 If you want to know all there is to start podcasting for fun and profit then Podcasting Made Easy will answer all your questions.
Written by Steve Hart, this paperback and ebook will give you the confidence to make your first podcast using the gear you probably already have, and provide a step-by-step guide to setting up a modest studio that will meet all your podcast production needs.
Chapters cover recording shows, media law, the importance of SEO show notes for your website, how to interview people, getting your shows listed on leading podcast libraries, podcast artwork, making money with your podcast, and key technical advice.
If you only buy one book about starting a podcast – this is it (no, really!).
Get it at Amazon here.
Podcasts have been around since 2004. Adam Curry and Dave Winer are credited with making the first one, and writer Ben Hammersley (of UK newspaper The Guardian) is credited with first using the term 'podcasting'. There is even an International Podcasting Day (30 September).
There's always room for one more podcast. So if you have the passion and determination to share your news, thoughts, and ideas – then the time to start your own podcast is now.