Make your first podcast with ease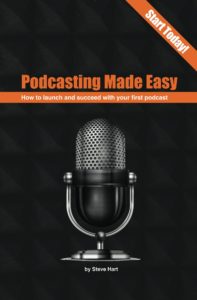 If you want to know all there is to start podcasting for fun and profit then Podcasting Made Easy will answer all your questions.
Written by Steve Hart, this paperback and ebook will give you the confidence to make your first podcast using the gear you probably already have, and provide a step-by-step guide to setting up a modest studio that will meet all your podcast production needs.
Chapters cover recording shows, media law, the importance of SEO show notes for your website, how to interview people, getting your shows listed on leading podcast libaries, podcast artwork, making money with your podcast, and key technical advice.
Get Podcasting Made Easy today from The Book Depository, or order it by name at your local book store.
If you only buy one book about starting a podcast – this is it (no, really!).
Podcasts have been around since 2004. Adam Curry and Dave Winer are credited with making the first one, and writer Ben Hammersley (of UK newspaper The Guardian) is credited with first using the term podcasting.
There is even an International Podcasting Day (30 September).
There are now millions of hours of podcasts produced every year, the audience for them is building fast, and that has been well established by research companies.
In New Zealand around 300,000 podcast episodes are downloaded every month. Yesterday, more than 170,000 people listened to a podcast in New Zealand.
People listening to podcasts are – according to Nielsen – aged between 20 and 49; they are in full time jobs; mainly city based; have young children; and earn 20% more than the average wage earner.
Australia
Drawing on data from Edison Research with regard the Australian market…
83% of Australians are familiar with podcasting
The portion of Australians who have listened to a podcast in the last month grew from 18% to 22% in 2019.
An average of six podcasts are listened to each week by those who are weekly podcast listeners.
"The online audio and podcast industry in Australia is primed for continuous growth, as demonstrated by the gradual increase in reported consumption year over year," said John Rosso, President of Market Development at Triton Digital in the Edison report. "The ongoing proliferation of smart speaker ownership and streaming on mobile devices will undoubtedly play a meaningful role in the continuous growth of these mediums across the region."
There's no reason to think these same trends aren't happened in New Zealand. And remember; the mobile phone is the new portable radio.
North America
According Edison Research's Infinite Dial, the Podcast Consumer 2019 survey of US podcast listeners…
Podcasting's Share of Ear has more than doubled in five years, increasing 122% since 2014.
Although all key demographics grew, much of the increase in podcasting has come from people aged 12-24.
Forty-one percent of monthly podcast listeners are listening to more podcasts today compared to one year ago.
Streaming services are playing a role in the growth of podcasting, with 43% of monthly podcast listeners say they have listened to a podcast on Spotify, and 35% on Pandora.
Music is the number one topic in terms of interest from podcast consumers.
Finally, 54% of podcast consumers are more likely to consider the brands they hear advertised on podcasts, compared to 7% who say they are less likely.
All the available evidence points to a rosy future for podcasting – which means any doubt you have about podcasting being a worthwhile venture should be extinguished.
It is also clear that people earning well above average annual incomes will be your audience. The downside is they don't like to spend time downloading and listening to a podcast only for it to be full of sales pitches. They prefer ad-free or ad-light podcasts.
Surprisingly, 84% of listeners play podcasts at home, while 65% play them in the car (I thought it would be the other way around). That means people are likely listening during their leisure time, most probably while doing something else around the home or garden.
People who like listening to podcasts also listen to them more than they do other forms of audio, such as radio and streaming music. They are a captive audience that's fully engaged with the medium.
One note I did see toward the end of Edison's survey report was that content isn't king, the audience is king. The report writer, in an almost throw-away line, says: "There are huge under-served potential audiences for new forms of spoken word media – so let's not rely on 'received wisdom' too much."