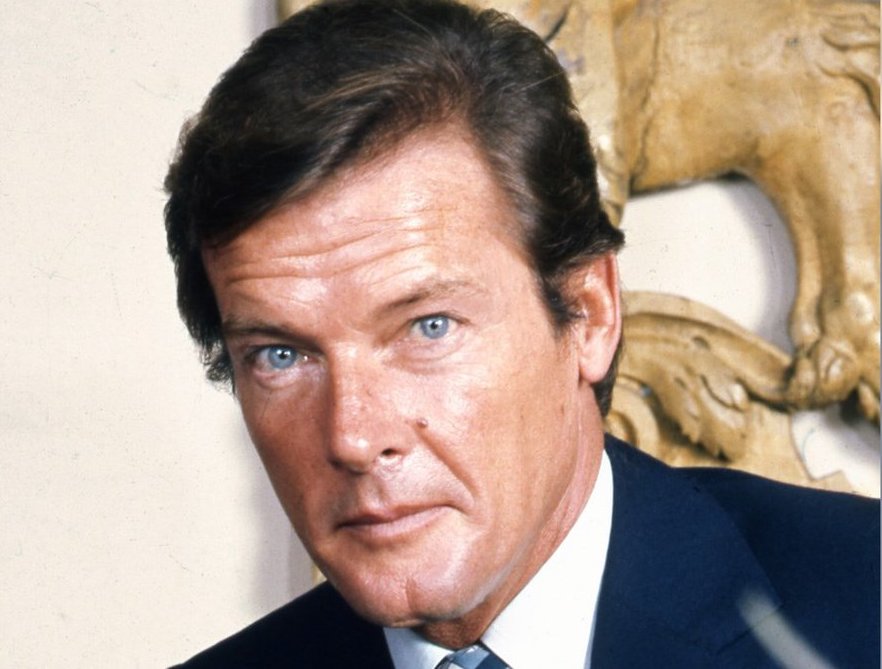 Roger Moore – Goodbye, Mr Bond
Goodbye, Mr Bond
I was thinking about actor Sir Roger Moore just last week while travelling on the bus. I remembered him playing James Bond of course and saying in an interview that he blinked every time he pulled the trigger of a prop gun when 'shooting' a villain. This made it hard for movie directors to get the money shot of Bond taking out a baddy.
Then I recalled that he was against animal cruelty – including fox hunting – and had volunteered to help children's charity Unicef. He seemed a jolly good chap in my book.
So it was sad to hear he died this week (23 May 2017) aged 89. Not a bad innings.
My first memory of Roger Moore was as TV's The Saint. The show was a hit in the 1960s, and as a child I watched in awe as his character, Simon Templar, solved the crime and got the girl every Sunday night. He was always one step ahead of occasional character inspector Claude (Ivor Dean), who added some comedic moments to the show.
The car Roger drove in later episodes of The Saint was a cool sporty number surprisingly made by Volvo. Who'd of thought?! The most boring car company in the world used to make sports cars.
The Volvo P1800 coupe used in the show was white, had been made in 1962 and had the TV number plate ST1. The car was rediscovered in the 1990s rotting away in a farmer's yard, but an enthusiastic chap restored it during the course of 16 years.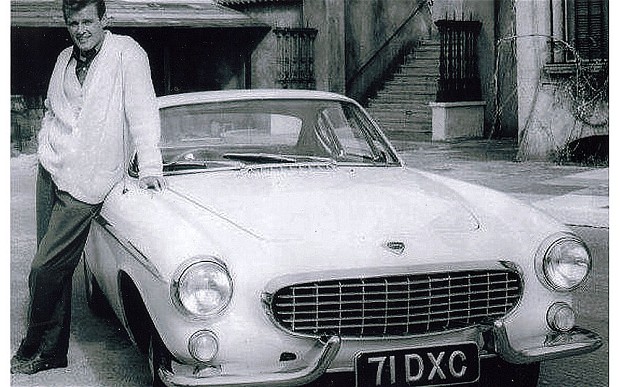 In 1971 Roger became one half of The Persuaders with actor Tony Curtis (Danny Wilde). Roger (Brett Sinclair) played a well-heeled toff. Wilde drove a Ferrari Dino 246GT while our eyebrow-raising action hero sat behind the wheel of a yellow Aston Martin DBS. I know which one I prefer.
The Persuaders was a great show for a young teenager, it was like The Saint on steroids. Foreign locations, car chases, and the then novelty of a wise-cracking Yank as a foil to the reserved Brit.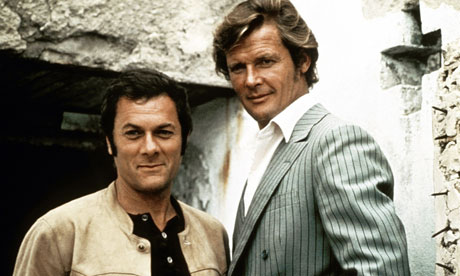 But we mustn't forget the music, for the show introduced me to the work of John Barry. He wrote The Persuaders' theme tune which had a strong synth bass line – just brilliant. From the moment I heard it I knew I wanted a synth (ideally a Moog, or an Arp, or in fact – any synth. Does a Casio count?).
John Barry had previously arranged the iconic James Bond theme for the first Bond film. The tune was written by Monty Norman (as established by two court cases, and he'll sue anyone who says differently). The dum dee dee dum dum tune has been used in almost all the Bond films.
Roger Moore's first outing as Bond was in the brilliant Live and Let Die (1973), he was the oldest actor (45) to have played the British spy.
James: There seems to be some mistake. My name is…
Mr. Big (interrupting): Names is for tombstones, baby!
Moore was essentially replacing the popular Sean Connery as 007 following the public's lukewarm reception of Australian George Lazenby's outing as Bond in On Her Majesty's Secret Service. This film was followed by Connery reluctantly returning to the role in Diamonds Are Forever.
Then came Moore in Live and Let Die – and this movie had it all. Great cars, beautiful women (of course…), superb locations, a brilliant score, an opening song by Paul McCartney, and gadgets galore.
"Now pay attention Bond."
Who doesn't remember the gas bullet that inflated one baddy to twice the size of Bond's ego? Or the spinning bezel on Bond's Rolex that cut through rope and also featured a powerful electronic magnet (aren't we supposed to keep magnets away from watches?).
James: You see, sir, by pulling out this button, it turns the watch into a hyper-intensified magnetic field. Powerful enough to even deflect the path of a bullet…at long range.
M: I feel very tempted to test that theory right now.
Having seen the watch in the film a friend and I spent hours pulling apart my broken (budget) diver's watch and trying to figure out how to fit a high-torque motor and battery into the casing of the watch and turn the bezel into a buzzsaw. We were only missing two things; a miniature high-torque electric motor and a teeny-weeny battery.
There was no hope, we gave up, and years later I learned the bezel on Bond's wrist spun at high speed thanks to a huge tank of compressed air – which meant the watch wasn't on Moore's wrist when it cut through rope.
And if you think about it; having a buzzsaw on an actor's arm might have caused some insurance issues… Yes, it's all props, make-believe, and a false 'arm' that looks plastic if you look carefully when the bezel is spinning.
The watch was sold at auction in 2015 for US$365,000 (and it doesn't even keep time).
It is worth noting though that Bond is first seen in Live and Let Die with a new-fangled digital watch with a red LED display. Bond had to press a button to illuminate the numbers.
Roger Moore did brilliantly as Bond in Live and Let Die, and he would  have joined the franchise at its outset (instead of Connery) had he not been tied to TV shows.
Moore played Bond more times than any other actor, but his spy movies were a mixed bag. Octopussy must be the worst of all Bond movies – the franchise had really lost its way at this point and Roger Moore's light-hearted take on the Bond character (a trained killer) was wearing thin.
In my opinion his best Bond outings are: Live and Let Die (just an exciting ride, particularly on the bus), The Spy Who Loved Me (brilliant opening gambit, Jaws, and underwater car), and For Your Eyes Only (fewer gadgets and more grit – but the teen skater character was silly).
Sitting in the middle is The Man With the Golden Gun. But among the misses are Moonraker (just too fanciful – even for Bond), Octopussy (I have no words…paper thin plot), and A View to a Kill (Grace Jones is a villain, yeah na).
Roger Moore had a good run playing Bond, but lacked the look of a hardened killer. But no one has played Bond like Moore, and if there is any criticism of his portrayal of the British spy created by Ian Fleming, then we must first look to the producers, script writers, and movie directors.
When the rot sets in it normally starts at the top.
Moore of course appeared in dozens of other movies, and one that comes to mind saw him fight his double. The movie, The Man Who Haunted Himself, is a forgotten psychological thriller from 1970 that's well worth hunting down.
Moore was an actor of the old school, seeking publicity only when it was needed (or when he was contractually obligated to do so). A gentleman, a top chap, and an all-round nice guy.
Cheers Roger, take it easy in Double O Heaven.
Sir Roger Moore KBE: 14 October 1927 – 23 May 2017.
Copyright Steve Hart.